Our Lady Help of Christians Academy
Home • Online Registration • Academic Calendar • Guardian Angel Fund • Tuition and Payment
Forms & Links • St. Isidore Website • Contact Us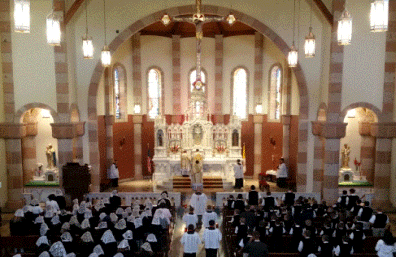 OLHCA offers Traditional Catholic education for all children from Kindergarten through 12th grade.
"True education is the consummate union of sanctity and intellect." - St. Thomas Aquinas, patron of Catholic schools.
Our Lady Help of Christians Academy strives to educate its students in accordance with this principle. We instruct them in the Catholic Faith while providing a structured and disciplined environment that allows for academic excellence at all grade levels.
Announcements:
Tuesday, February 9th: Upper School Day of Recollection - Upper school students will be attending the 8:00 a.m. Mass on Tuesday, so please send them with breakfast. Lower school students will attend the regularly scheduled school Mass at 11:30 a.m.

Wednesday, February 10th: Ash Wednesday - All students will be attending the 8:00 a.m. Mass. Please send a breakfast with your children.

Friday, February 12th: Knights Basketball - The OLHCA basketball team will be playing their final game of the season against Hyland Christian Academy at 5255 W. 98th Avenue in Broomfield (80020). All parents and family are encouraged to attend and support your team. (There may be a minimal admission fee.)

February 15th - 19th: Annual Priests' Meeting - NO SCHOOL.