Our Lady Help of Christians Academy
Home • Online Registration • Academic Calendar • Guardian Angel Fund • Tuition and Payment
Forms & Links • St. Isidore Website • Contact Us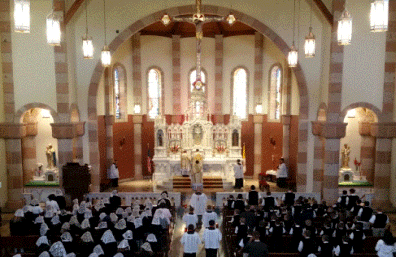 OLHCA offers Traditional Catholic education for all children from Kindergarten through 12th grade.
"True education is the consummate union of sanctity and intellect." - St. Thomas Aquinas, patron of Catholic schools.
Our Lady Help of Christians Academy strives to educate its students in accordance with this principle. We instruct them in the Catholic Faith while providing a structured and disciplined environment that allows for academic excellence at all grade levels.
Announcements:
BoxTops Store is Open - Starting Wednesday, September 21th after school, it's time to turn in all those box tops that you have been saving over the summer!!! The first mailing will be at the end of October. Please remember that Box Tops For Education does NOT accept EXPIRED box tops, so please check the dates before you turn them in. Also, turning in neatly clipped box tops would also be appreciated. The last submission for the 2015-2016 year earned the school $539.40. Good job, and keep clipping those Box Tops for our school! (There's a sign-up sheet in the reception area of the lower school for volunteers to help run the store.)

Supplies for the School - Please consider donating items such as copy paper and cleaning supplies. The school secretary can provide more information about the school's needs. Thank you to those parents who have already donated!

Registration Paperwork - If you have not yet completed your registration paperwork, please do so as soon as possible. Completed forms can be turned in to the school secretary.